Coaching is the Phrase de jour, More and More Individuals and Businesses are Recognising the Usefulness of  Coaching.

Coaching Applications of NLP
Become a Licensed NLP Coach!
Coaching is becoming a core competence of most managers and a recognised coaching qualification is becoming more and more sort after when organisations are looking to recruit.
Along with this, the growth of demand for coaching is leading to more and more individuals and companies seeking out experienced and qualified coaches.
Coaching is defined as "enabling clients to shift their perspectives and thereby discover different solutions to achieve their goals".
As an NLP Practitioner or Master Practitioner you already have some of the most powerful change work techniques available. This 3-day intensive training will enable you to put these existing NLP skills into the context of coaching and give you additional tools to become an effective coach.
I was one of the first people to recognise the demand for high quality NLP Coaching training and have been running this course since 2006.
If you are already trained in NLP and want to explore the uses and possibilities of coaching, either in your personal or professional life, this is the ideal course for you.
NLP is the perfect foundation to build your coaching skills.
It also comes with the reassurance of a robust and internationally recognised qualification.
The relationship between and the differences of coaching, therapy, consulting and counselling.
How coaching benefits the organisation and how coaching skills are essential to managers.
The main coaching models and how they fit with NLP.
How to set goals so you can achieve them.
How to give feedback that quickly modifies behaviour.
How to coach a client to achieve their outcomes.
How to structure your own coaching programmes.
Sample Outline for a 3-Day Training
This is a sample outline for the training, but is flexible depending on the needs, experience and interests of the group.
Day 1 – Introduction, Structure and Direction
Background to coaching - a Socratic discussion including:
What coaching actually is.
A brief history of coaching.
What coaching is used for.
The difference between coaching, mentoring and counselling.
How the NLP strategy model ties into planning implementation, including:
TOTE for results.
Wellformed outcomes.
The NLP Framing tool.
The NLP Framing tool Classic coaching models such as the Grow model.
Meta Programmes.
How we naturally motivate and organise ourselves and how we can use that to create natural motivation and productivity.
Day 2 – The Use of Language in Coaching
What our language says about our internal world.
How to gain rapport easily and effortlessly.
Using the NLP language patterns:
The Meta Model.
Aspects of the MIlton Model, including metaphors for change.
The Sleight of Mouth "If" and "And" frame.
How to verbally frame an outcome so it is the ONLY possible result.
How to effectively structure questions and use feedback to easily achieve results.
Day 3 – Bringing It All Together
How to structure your coaching programmes.
Review and tips for being an effective coach at work and elsewhere.
Certification
This is a certified course, which means your certificate is granted by licence from the Society of NLP, formed in 1979 by Richard Bandler and John Grinder. It is the first and largest NLP certification, training, validation and quality control organisation in the world.
Certification in this programme is based on demonstrations of competence, suitable attitude and appropriate experience according to the trainers' criteria. We take certification seriously, and depending on your level of experience and ability we may ask that you gain further experience or take some additional training before full certification is granted.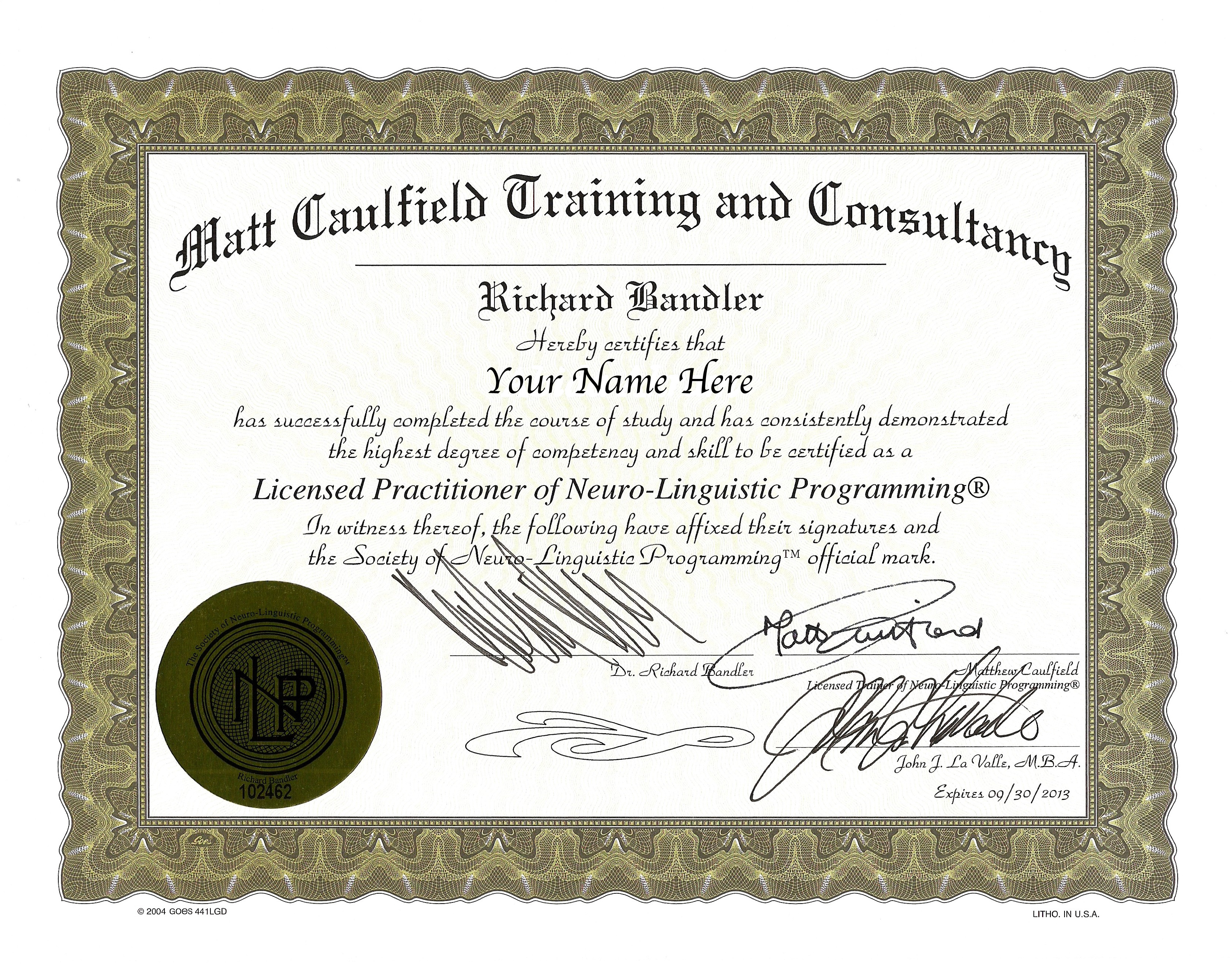 Investment
ONLY £649 including VAT, certification fee,  and all course fees (£540.83 excl VAT).
How To Book
You can book online and pay via paypal, or you can download a pdf booking form if you would like to pay via cheque, company invoice or BACs.
A List of Key Information You Need To Know Before You Book
1

Maximum Group Size

There are only a maximum of 6 places per course.

4

Investment

The investment is ONLY £649 including including VAT, certification fee, manual, extra special bonuses and all course fees (£540.83 excl VAT).

2

Payment Plan

You can pay in 3 affordable instalments of £599.67.

3

Location - Birmingham

The location of the Birmingham NLP Practitioner training is the West Midlands Hypnotherapy Centre in South Birmingham, with ample parking easy to get to (10 minutes from Junction 2 of the M42).

4

Location - Cardiff

The location of the Cardiff NLP Practitioner training is R&R Consulting Centres in Heath, Cardiff, with ample parking easy to get to (15 minutes from Junction 32 of the M4).

5

Certification

On successful completion you will be awarded a certification as Licensed NLP Practitioner with the Society of NLP.
YES PLEASE! I would like to learn how to use NLP for coaching...
I have read why you think I should train with you (and agree!).
I have read the "online booking process" page.
I have read the terms and conditions.
I hold a valid NLP Practitioner qualification or equivalent (and will supply a copy with my booking).
Already Done Your NLP Coach Training?
Do you want to review, revise and practice your skills? Then you can redo your NLP Coach training with me for £299 + VAT (that's less than £100 per day!), you don't need to have done your original training with me. Please contact me for details.
Can't Or Don't Want to Attend an Open NLP Coach Training?
I offer a variety of different ways to complete your NLP Coach Training from one-to-one tuition to in house and private trainings for companies and organisations.
Questions?
If you have any questions at all, or want to discuss this training in more detail, please click here to contact me for more information, or call 0845 3 626277