Licenced Practitioner of NLP Training Programme
Learn the Building Blocks of Change!

2013 Licensed NLP Practitioner Training Programme – NOW with Complementary iPad and ILM Accreditation
A SOCIETY OF NLP Licensed NLP Practitioner is someone who has learned to use the attitudes, principles and methodology of NLP as they are intended to be used, by its co-creator Dr Richard Bandler, for themselves and with others.
By Becoming an NLP Practitioner You Will be Able To:
Control your emotions, rather than letting your emotions control you.
Improve your communication and relationships with others.
Create instant motivation.
Become supremely self competent and self confident. Discover your true potential and become the person you truly want to be.
Help other people achieve the same results.
Much, much more…
But don't take me word for it, here is what some of my past trainees have said:
This has been a real Eureka experience. Outstanding tutor – enthusiasm and knowledge just spews out. The lack of psychobabble and the interaction has made this a truly potent learning experience. Andrew J Wells,

Clinical Psychologist
If you want fast-paced energetic, experiential learning this is the course to do it on. Don't expect a softly, softly approach – open your mind to the experience and go with it. I've never had so much fun on a training course in ages (apart from the taster day). Dynamic, fun, with the outcome I signed up for. Being ABLE to do NLP as opposed to just being able to TALK about it. Carol Adams,

Consultant
I learned more of value in one short week than I did in 3 years of college studying for a Diploma on Counselling. Should be a mandatory component in any counselling course. Peter Field, Hypnotherapist
Matt was very skilled at enabling me to learn without feeling like I had to try hard. The techniques and approach's found themselves settling nicely into my subconscious. Andy Lucas, Hypnotherapist
The NLP Practitioner Training is the first step on your journey of NLP and it will give you the skills and abilities to:
Get yourself into a great mental and emotional state. You'll be able to feel at your best in any situation and be able to program yourself to feel the way you want to when you want to.
Turn feelings of fear or anxiety into confidence & motivation, in less than a minute!
Create cutting edge methods for building trust with someone, in just a few moments. Connect with the people you want to, & banish that 'first meeting' anxiety.
Learn the one most common mistake about how build meaningful relationships with people.
Get inside someone else's head and understand how they are thinking what they are thinking by just asking a few simple and innocent questions.
Use language in a wide range of styles including hypnotic communication skills that gets people moving in the direction you want them to.
Patterns that make it so hard to say 'no' that the person you are communicating with just has to say 'yes'.
Change the way you relate to someone, forever. You know that person who always rubs you up the wrong way? Never again!
Profoundly heighten your awareness, which allows you to notice the things other people miss, and will make you appear psychic!
Capture peoples feelings and get them to feel those feelings again, instantly. Would you like someone to feel good whenever they see, or even just think about you?
Understand the processes of how behaviour is created, maintained and changed for yourself and others.
Understand the hidden structure of lasting change & how you can get it to work for you rather than against you.
Enhance the effectiveness and impact of your present competence and skills.
Remember the things you need and want to even under testing conditions.
Create massive change in someone just by appearing to have a "bit of a chat".
Become the person that everyone wants to be around. The person who, when you turn up, troubles seem to just melt away.
To make this training fit more easily into your day to day schedule, and allow you to practice your skills in the real world during the training, this NLP Practitioner course is run over two modules:
Module 1: The Building Blocks of Change
In this first module you will be immersed in the core methodology, learn the classic patterns and processes of NLP and you will be given plenty of time to practice and develop your skills.
Behavioural integration of the basic presuppositions of NLP.
Rapport establishment & maintenance.
Verbal & non verbal pacing & leading.
Calibrating through sensory experience.
Representational Systems (Sensory Predicates and Accessing Cues).
Elicitation of Well-Formed Goals, Direction, and Present State. How to structure an intervention.
Eliciting, Installing & Utilising Anchors in all sensory systems.
Eliciting and manipulating Submodalities.
Overlapping and Translating Representational Systems.
Strategy Detection, Elicitation, Utilisation, and Installation.
Timelines
Module 2: The Language of Change
This module builds and extends on your knowledge of the first module including more advanced techniques and the classic patterns of NLP including:
Ability To Shift Consciousness.
Omni Directional Chunking.
Accessing and Building Resources.
Content & Context Reframing.
The Meta Model – How our language defines and creates our reality.
The Milton Model – Artfully vague language and persuasive language.
Certification
This is a certified course, which means your certificate is granted by licence from the Society of NLP, formed in 1979 by Richard Bandler and John Grinder. It is the first and largest NLP certification, training, validation and quality control organisation in the world.
Certification in this programme is based on demonstrations of competence, suitable attitude and appropriate experience according to the trainers' criteria. We take certification seriously, and depending on your level of experience and ability we may ask that you gain further experience or take some additional training before full certification is granted.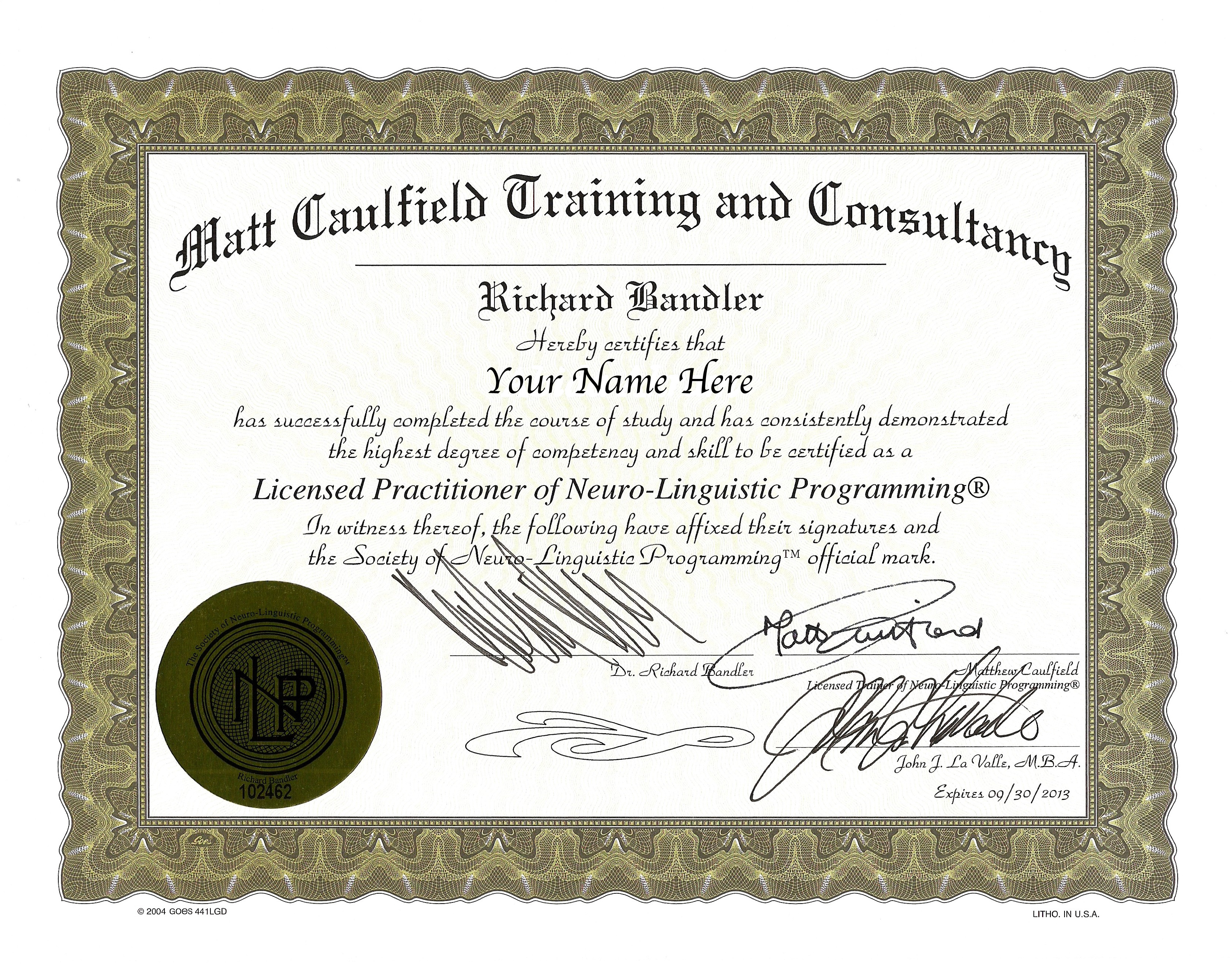 Investment
ONLY £1799 including VAT, certification fee, iPad, extra special bonuses and all course fees (£1499.17 excl VAT).
Additional Bonuses
Below is a list of additional bonuses you get for booking on the NLP Practitioner training. I am very proud to have been able to develop and offer such a strong list of additional bonuses and believe this is one of the most comprehensive NLP trainings in the UK.
1

Complementary iPad*

Manuals are so old hat. So for my Practitioner training starting in 2012, you will now receive an iPadpreloaded with your official Society of NLP manual and additional learning materials and bonuses (see below). A £399 value.

2

Additional Learning Materials

As well as the comprehensive, Society of NLP Practitioner Manual you will also receive additional  learning materials pre-loaded on your iPad, including: • NLP Exercise eManual • The Little eBook of NLP Techniques • Advanced Language Pattern Mastery Flashcards Vol 1.

3

Three Months Membership To The ANLP

The Association of NLP (ANLP) is one of the worlds leading NLP members organisation and gives you the oppunity to network, promote yourself and learn more about NLP

4

Follow Up Coaching Sessions

I recognise that you need sufficiant "fly time" in the real world when you have completed the training. So I give you 2 follow up coaching sessions via telephone, Skype or face to face, to ask any questions that you want.
How To Book
You can book online and pay via paypal, or you can download a pdf booking form if you would like to pay via cheque, company invoice or BACs.
A Summary of Key Information You Have To Know Before You Book On Your NLP Practitioner Training:
1

Maximum Group Size

There are only a maximum of 12 places per course.

2

iPad and Learning Materials

You will receive an iPad preloaded with all your course materials. This iPad is yours to keep.

3

Extra Special Bonuses

When you book your place you will also get additional bonuses worth over £799 that will increase your ability to perfect the skills you learn.

4

Investment

The investment is ONLY £1799 including including VAT, certification fee, manual, extra special bonuses and all course fees (£1499.17 excl VAT).

5

Payment Plan

You can pay in 3 affordable instalments of £599.67.

6

Location - Birmingham

The location of the Birmingham NLP Practitioner training is the West Midlands Hypnotherapy Centre in South Birmingham, with ample parking easy to get to (10 minutes from Junction 2 of the M42).

7

Location - Cardiff

The location of the Cardiff NLP Practitioner training is R&R Consulting Centres in Heath, Cardiff, with ample parking easy to get to (15 minutes from Junction 32 of the M4).

8

Certification

On successful completion you will be awarded a certification as Licensed NLP Practitioner with the Society of NLP.
YES! I would like to book on your Flagship NLP Practitioner training…
I have read why you think I should train with you (and agree!)
I have read the "online booking process" page
I have read the terms and conditions
I understand I will get a complementary iPad which will be mine to keep at the end of the training.
I understand that I will choose the training dates and payment methods that best suit me on the next page.
Already Done Your NLP Practitioner Training?
Do you want to review, revise and practice your skills? Then you can redo your NLP Practitioner training with me for £599 + VAT (that's less than £100 per day! iPad not included), you don't need to have done your original training with me. Please contact me for details.
Can't Or Don't Want to Attend an Open NLP Practitioner Training?
I offer a variety of different ways to complete your NLP  Practitioner Training from one-to-one tuition to in house and private trainings for companies and organisations.
Questions?
If you have any questions at all, or want to discuss this training in more detail, please click here to contact me for more information, or call 0845 3 626277