Licenced Master Practitioner of NLP Training Programme
"You Have Recognised the Power of NLP. Now is YOUR Opportunity to Take Your Skills to a New Level"

"Become a Master of Change and Influence"

Licensed NLP Master Practitioner Training Programme
An NLP Master Practitioner  is someone who has mastered the creative and innovative applications of the principles and methodology of NLP. They are highly skilled communicators, able to easily change their own behaviours and those of others.
You have recognised the power of NLP. Now is your opportunity to take your skills to a new level!
The NLP Master Practitioner training is much more than just another NLP training; it is a unique opportunity to exponentially increase your ability in NLP. Its flexible and supportive atmosphere is much more like a creative workshop than the more traditional top down "do as the trainer does" style of the Practitioner training.
It involves much more experimental and experiential exercises that will allow you to really imprint and develop the attitude, methodology and techniques of NLP, including:
An opportunity to review, revise and master your Practitioner Skills.
Spending much more time perfecting your linguistic skills; with time dedicated to the Meta Model and the Milton Model and studying and modelling great communicators.
Memory techniques.
A look at DHE (Design Human Engineering), strategy design and advanced modelling techniques.
Deep trance work, persuasion and influence.
Much, much more…
Please note: To attend the NLP Master Practitioner training you need a valid NLP Practitioner certificate.
This training seamlessly follows on from my "flagship" NLP Practitioner training and (unlike many of the people offering Practitioner trainings today) I have over 10 years experience directly in NLP, and for seven of those I have been running NLP Practitioner trainings. In that time, I have had the opportunity to develop one of the most complete, yet cost effective NLP trainings available today.
The NLP Master Practitioner training takes you from being proficient to being gifted at persuasion, influence and change work…
But don't take me word for it, here is what some of my past trainees have said:
Education with enlightenment and applied knowledge giving wisdom… Although this sounds over inflated and exaggerated, the Master Practitioner training course with Matt delivered on all fronts.
Matt is widely read and very knowledgeable in and around the subject of NLP. Having delivered and prepared much training in the past it is clear that Matt invests immense preparation to enable him to effortlessly deliver the course. Many thanks. Paul Oakes,

Programme Manager
Matt is an excellent trainer who is able to teach NLP in a very entertaining and successful way. Following the training I have been able to successfully apply the skills. Rob Smith,

Business Consultant
This course is an outstanding course on self improvement and communication skills, and so much more! As a teacher it is invaluable, as a manager it is powerful and as a part of family and friends it is empowering. Matt's style of delivery is unique and truly empowering. He enables delegates to be truly educated. Sue Croft,

Deputy Head Teacher
A most enjoyable course. An excellent learning experience that leaves a thirst for more. Sir Robert Dowling, Headmaster
By becoming an NLP Master Practitioner  you will be able to:
"Upload" new skills just like Neo out of the Matrix! Hack your own behaviour and streamline and accelerate your ability to learn.
Develop a way to simply and easily access any resource or state you need at any given time.
Become a fascinating raconteur and story teller.
Weave your teachings deep into your communication to deliberately communicate on an unconscious and conscious level.
Be able to implant a "thought virus" in peoples minds. Transcend the need for pre-prescribed "techniques" and develop your own applications of NLP.
Truly integrate the attitude and presuppositions of NLP, much like upgrading the operating system of your computer so that you live and breath NLP!
Confidence comes with competence, by taking your skills to this high level, you will have rock solid, unwavering confidence in your ability.
Do things you never thought were possible.
To make this training fit more easily into your day to day schedule, and allow you to practice your skills in the real world during the training, this NLP Practitioner course is run over two modules:
Module 1: The Structur of Reality
If you were given a blank sheet of paper and asked to design your mind from scratch how would you do it?
One of the major benefits of participating in a Master Practitioner is the opportunity to re-visit the Practitioner material and review it through applying it alongside more advanced material, bring it to the level of unconscious competence. We will go deeper in to the core concepts and methodologies to explore our relationship with reality
1

Sensory Acuity

This is the key area in NLP without this everything else is a waste of time. Learn to tune your senses right up so you can get as much information as possible in any given situation.

2

Anchoring , Submodalities and Timelines

Revisit the NLP Practitioner time line methods, explore the main submodality configurations, use them seamlessly using spatial anchoring, and integrate Time Line work with other NLP methods. Extend your understanding of anchors by learning to use and recognise anchors in the main representational systems.

3

Strategies, Advanced Modelling and Design Human Engineering

We will examine how to use strategies to enable you to make changes in your skills and abilities. We will come at the idea from a radical notion of "starting from scratch" with designing your thought process.
Module 2: The Language of Change
Revisit, refine and extend the Meta Model and Milton Models and integrate these with the other approaches to develop a more perceptive, receptive and influential style of communicating.
1

Sleight of Mouth and Persuasion Patterns

Explore this huge range of advanced reframing patterns which can be used seamlessly in everyday conversation and with which you can assist a person in examining and altering limiting beliefs and values, resolving self esteem problems, and changing how they perceive and respond to difficulties and setbacks.

2

Meta-Programs and Communication Structure

Learn how to recognise the principal Meta-program patterns and 'clusters' of patterns, the linguistic indicators of Meta-programs, how a person's Meta-programs guide their choices and needs and how to use your awareness of Meta-programs to greatly enhance your ability to influence. Learn how to recognise a person's habitual ways of thinking, responding and behaving so that you can recognise trends and predict likely outcomes.

3

Creating and Chaining States

The greatest "teaching tales" are metaphors, using all the other skills and techniques above learn how to create and chain these metaphors in a way that will enthral and entrance your audience to create deep and lasting change.

4

Indepth Meta Model Review

An indepth look at the Meta Model and how to use it not only to recover information but to persuade.
Certification
This is a certified course, which means your certificate is granted by licence from the Society of NLP, formed in 1979 by Richard Bandler and John Grinder. It is the first and largest NLP certification, training, validation and quality control organisation in the world.
Certification in this programme is based on demonstrations of competence, suitable attitude and appropriate experience according to the trainers' criteria. We take certification seriously, and depending on your level of experience and ability we may ask that you gain further experience or take some additional training before full certification is granted.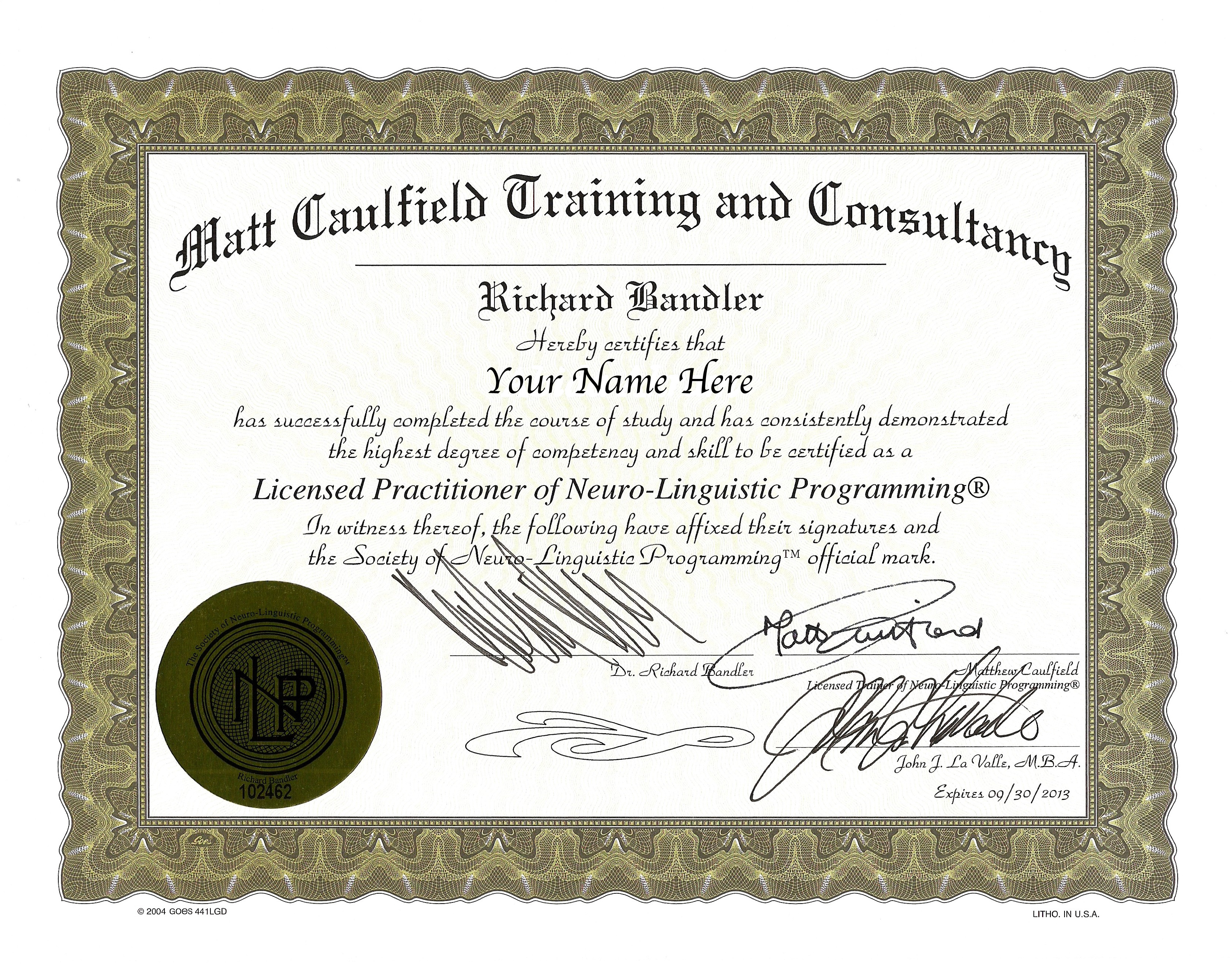 Investment
ONLY £2499 including VAT, certification fee, manual, extra special bonuses and all course fees (£2082.50 excl VAT).
Please note: To attend the NLP Master Practitioner training you need a valid NLP Practitioner certificate.
Additional Bonuses
Below is a list of additional bonuses you get for booking on the NLP Practitioner training. I am very proud to have been able to develop and offer such a strong list of additional bonuses and believe this is one of the most comprehensive NLP trainings in the UK.
1

Re-Attend the NLP Practitioner Training – Extra Special Exclusive Bonus!

To make sure you get the very best from the Master Practitioner training, you can re-attend the NLP Practitioner training free of charge. A £1499 value!

2

Complementary iPad*

Manuals are so old hat. So for my Practitioner training starting in 2012, you will now receive an iPadpreloaded with your official Society of NLP manual and additional learning materials and bonuses (see below). A £399 value.

3

Additional Learning Materials

As well as the comprehensive, Society of NLP Practitioner Manual you will also receive additional learning materials pre-loaded on your iPad, including: • NLP Exercise eManual • The Little eBook of NLP Techniques • Advanced Language Pattern Mastery Flashcards Vol 1.

4

Three Months Membership To The ANLP

The Association of NLP (ANLP) is one of the worlds leading NLP members organisation and gives you the oppunity to network, promote yourself and learn more about NLP.

5

Follow Up Coaching Sessions

I recognise that you need sufficiant "fly time" in the real world when you have completed the training. So I give you 2 follow up coaching sessions via telephone, Skype or face to face, to ask any questions that you want.
How To Book
You can book online and pay via paypal, or you can download a pdf booking form if you would like to pay via cheque, company invoice or BACs.
1

Maximum Group Size

There are only a maximum of 8 places per course.

2

iPad and Learning Materials

You will receive an iPad preloaded with all your course materials. This iPad is yours to keep.

3

Extra Special Bonuses

When you book your place you will also get additional bonuses worth over £799 that will increase your ability to perfect the skills you learn.

4

Investment

The investment is ONLY £1799 including including VAT, certification fee, manual, extra special bonuses and all course fees (£1499.17 excl VAT).

5

Payment Plan

You can pay in 4 affordable instalments of £625.

6

Location - Birmingham

The location of the Birmingham NLP Practitioner training is the West Midlands Hypnotherapy Centre in South Birmingham, with ample parking easy to get to (10 minutes from Junction 2 of the M42).

7

Location - Cardiff

The location of the Cardiff NLP Practitioner training is R&R Consulting Centres in Heath, Cardiff, with ample parking easy to get to (15 minutes from Junction 32 of the M4).

8

Certification

On successful completion you will be awarded a certification as Licensed NLP Practitioner with the Society of NLP.

9

Complimentary place on the NLP Practitioner

You will receive a complimentary place on the NLP Practitioner training prior to the NLP Master Practitioner course to review and revise your NLP Practitioner skills.
YES! I would like to book on your NLP Master Practitioner training…
I have read why you think I should train with you (and agree!)
I have read the "online booking process" page
I have read the terms and conditions
I understand that I will choose the training dates and payment methods that best suit me on the next page.
Already Done Your NLP Practitioner Training?
Do you want to review, revise and practice your skills? Then you can redo your NLP Practitioner training with me for £599 + VAT (that's less than £100 per day! iPad not included), you don't need to have done your original training with me. Please contact me for details.
Can't Or Don't Want to Attend an Open NLP Practitioner Training?
I offer a variety of different ways to complete your NLP  Practitioner Training from one-to-one tuition to in house and private trainings for companies and organisations.
Questions?
If you have any questions at all, or want to discuss this training in more detail, please click here to contact me for more information, or call 0845 3 626277